The Pros and Cons of Using Instagram for Business
You can sell big on Insta­gram. Yep, you heard me. So maybe Tik­Tok came out with some stiff com­pe­ti­tion, but Insta­gram isn't dead yet. It is still trendy, it is still cool, and it is still one of your best options for gain­ing vis­i­bil­i­ty for your brand on social media. Because, fun­da­men­tal­ly, Insta­gram is a social net­work­ing appli­ca­tion, or tool, that was cre­at­ed for peo­ple to share pic­tures and videos from a smart­phone. How much more 'vis­i­ble' can you get than with pho­tos and videos?
Instagram: An Introduction
Insta­gram is part of the Face­book fam­i­ly, so if you've ever been con­fused when you see this: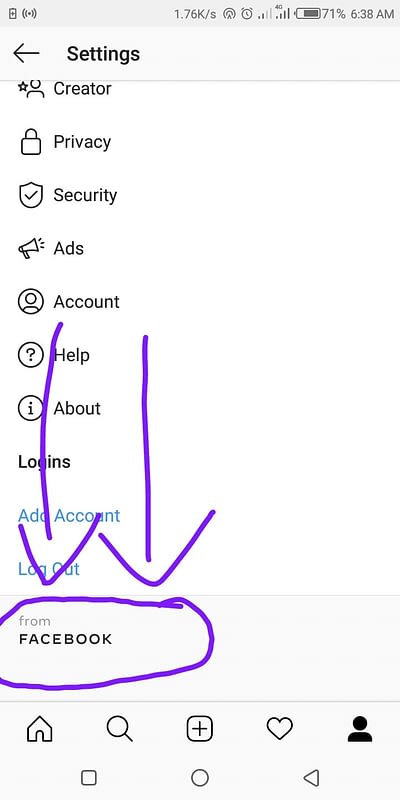 That's what it means. So, Insta­gram is a social net­work­ing app just like Face­book and Twit­ter, where every­one can cre­ate an account, set up a pro­file, and start shar­ing con­tent and fol­low­ing peo­ple they like.
When­ev­er you post a pic­ture or a video, it shows up on your pro­file. Peo­ple who like your pic­ture or video 'heart' it, by click­ing the heart icon, like so: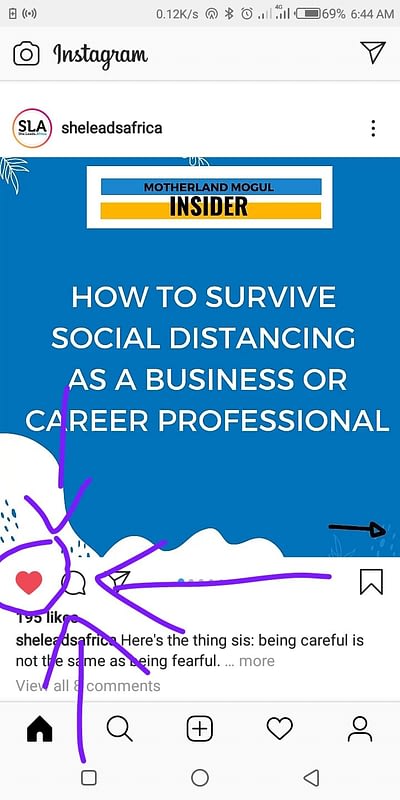 When you dou­ble-tap a post or sim­ply tap the heart icon, it turns red, mean­ing you have 'liked' a post, or some. On your feed, you won't see the heart turn red until YOU tap it; oth­er­wise, it just shows you the num­ber of peo­ple who have liked your post.
Insta­gram is pret­ty easy to use, and it is strict­ly a smart­phone app. It was made for smart­phones and not desk­tops, so while you can log in and look at stuff and even like them via your desk­top, you can only get the full use of Insta­gram from your Android devices or iPhone or iPad.
Instagram for Business
With over a bil­lion active users month­ly, Insta­gram has less com­pe­ti­tion than Face­book and more audi­ence engage­ment than Twit­ter. This means that your busi­ness has a chance to thrive on this social net­work, whether it is free­lance blog­ging, copy­writ­ing, ghost­writ­ing, you're an influ­encer or a bak­er. Insta­gram is a great place for mar­ket­ing your prod­ucts and ser­vices to your ide­al audi­ence with­out break­ing the bank on paid ads. Plus, you can use oth­er appli­ca­tions to sched­ule your posts if you don't have the time to, like Hoot­suite and Sendible. This makes it eas­i­er for you to show off your brand and engage with your audi­ence with­out hav­ing to sit there doing it 24/7.
To use Insta­gram for busi­ness, you will need to cre­ate a busi­ness account. It is fair­ly sim­ple: all you need to do is fol­low the prompts as you cre­ate your Insta­gram account, or, if you already have an account, you can go here:
Step 1: Go to Set­tings > Account
Step 2: Under Account go to "Switch to Busi­ness Account".
And you are good to go. If you need to read more about it, you can check out this post by Sendible on how to set up an Insta­gram for busi­ness account.
Whether you are a new­bie or an old hand at using Insta­gram for busi­ness, every­one still needs a refresh­er course. You need a great strat­e­gy to make Insta­gram work for you, because there are a lot of oth­er brands on the same social net­work, in your niche, who are try­ing to do the same thing you are doing. So what strate­gies can make you stand out on Instagram?
Seven Strategies to Make You Stand Out on Instagram
Pho­to by Geor­gia de Lotz on Unsplash
1. Get Creative with Your Solutions
What­ev­er it is you are sell­ing is meant to add val­ue to peo­ple. If it's a fic­tion book, the val­ue you are adding is enter­tain­ment. If it is an inte­ri­or dec­o­ra­tion com­pa­ny, you are giv­ing peo­ple the aes­thet­ics they need in their homes to make their lives beau­ti­ful. Every prod­uct and ser­vice you offer is meant to pro­vide a solu­tion to a need. So, focus on that solu­tion in your Insta­gram posts. Get cre­ative with it. And remem­ber that Insta­gram is all about visu­al con­tent, so your cre­ativ­i­ty should know no bounds.
Lit­er­al­ly.
If you are a ghost­writer, what do you post on Insta­gram? Behind-the-scenes pho­tos of you pro­cras­ti­nat­ing with your lap­top opened to MSWord. You can use Can­va to cre­ate images of quotes of help­ful tid­bits to share with your audi­ence. There is a lot you can do to make Insta­gram for busi­ness work for you, such as using Insta­gram Sto­ries and IGTV.
2. Have a Great Profile
Pho­to by Szabo Vik­tor on Unsplash
Just like Twit­ter, your Insta­gram pro­file has a char­ac­ter lim­it: 150 char­ac­ters. SO you will need to intro­duce your­self, what you do, and why you are worth fol­low­ing in those 150 char­ac­ters in a way that will make you stand out. Also, your pro­file is the only place on Insta­gram that you can put in a click­able link, so use it wise­ly. Don't just put a link to your blog and leave it there: switch it up once in a while. If you are giv­ing out free­bies, put the link to the free­bie page there. Should you host­ing a talk­ing par­ty, link to it there. If you are sell­ing some­thing, put the link there. Since switch­ing up those links all the time looks like a lot of work, get Link­tree. It is free, and it is kind of like plac­ing all your impor­tant links on one page, then plac­ing the link to that page in your Insta­gram bio. Prob­lem solved!
3. Show Your Audience How You Do What You Do
Humans are curi­ous by nature. They like to know things, and when it comes to what you are offer­ing, they would like to know even more what goes on behind the scenes. So show them. Show them pic­tures or videos of your cre­ative process or man­u­fac­tur­ing process. Show them pic­tures of your note­books or white­boards, or that bench that you saw that inspired you to cre­ate. Try out dif­fer­ent posts until you find the one that res­onates with your audi­ence the most. And, the more per­son­al you get, the more your audi­ence will relate to you.
4. Use Hashtags
Pho­to by George Pagan III on Unsplash
Hash­tags are great for organ­ic reach. Hash­tags help peo­ple to find con­tent that is relat­ed to you, and you should also make a hash­tag out of your brand name, e.g. #write­with­jess, so that peo­ple can see con­tent relat­ed to your main account as well.
The max­i­mum num­ber of hash­tags you can use on Insta­gram is 30. Now, some peo­ple say that you shouldn't add all 30 hash­tags relat­ed to your niche. Rather, they advise that you use only 3 to 5 hash­tags. Oth­ers insist that you use all 30, while oth­ers rec­om­mend 10. I think the main take­away here is that you should play around with it. It's your brand and your account, after all. Use 3, 5, 20, 30, and fig­ure out what hash­tags work for you and in what com­bi­na­tions. This should be fun.
Also note that some hash­tags are banned, or will make Insta­gram block your account. You can find a list of them here.
5. Work with Others and Name Drop!
Okay, tech­ni­cal­ly, it's called men­tion­ing, not name drop­ping. When you col­lab­o­rate with peo­ple, it is a great idea to men­tion them in your posts or your Insta­gram Sto­ries by typ­ing their Insta­gram han­dle, ie. @write_with_jess (see me shame­less­ly drop­ping my brand name every­where? Good, fol­low suit). It could be a char­i­ty you donat­ed to, or a hap­py client, or a shout-out to your favorite brands on Insta­gram. Men­tion­ing peo­ple in your con­tent is a good strat­e­gy for mak­ing Insta­gram for Busi­ness work for you. This gives you increased expo­sure, espe­cial­ly if the oth­er per­son men­tions you in their posts too, and, if you can afford it, go for a paid shout-out. This is when you pay an influ­encer with a large fol­low­ing to pro­mote you and your ser­vices or prod­ucts to their audience.
6. Leave Them Wanting More, and Make Them Feel Special
Your audi­ence is impor­tant to your brand, so you need to offer them some­thing that will keep them loy­al to you and bring oth­ers to join your tribe. One way to do this is to catch their inter­est and hold it. Tease them with new things in the works. Leave them want­i­ng more. And make them feel spe­cial by offer­ing them exclu­sive con­tent. Let your audi­ence be the first to know of any­thing you've got in the pipeline. They'll love you for it.
7. Assess Your Strategy and Improve on What Works
This is usu­al­ly why New Year res­o­lu­tions don't work: because peo­ple don't take a step back to eval­u­ate what progress they have made until the end of the year. Reg­u­lar­ly check your progress and see what is work­ing and what isn't. If you don't, you are guess­ing all through. Using social media man­age­ment tools, you can sched­ule your con­tent in advance and mea­sure how well they did with social media ana­lyt­ics. Check your fol­low­er count, your lev­el of engage­ment, and how many clicks each post got. Ana­lyze every­thing and improve on what works.
Using Instagram for Business: The Pros and the Cons
Every­thing has its upsides and down­sides. Insta­gram is a won­der­ful social net­work­ing tool, and Insta­gram for Busi­ness is awe­some for grow­ing your brand, your tribe, and mak­ing killer sales, but it has some sides to it that you should take note of before div­ing in.
But let us start with the good news first.
Instagram for Business – The Pros
Pho­to by Katya Austin on Unsplash
• Your Ide­al Clients Can See What You Do
Writ­ten con­tent rules, but peo­ple con­nect more when they can see what you are offer­ing. And that is what Insta­gram was cre­at­ed for. Using pic­tures and graph­ics, you can show your cus­tomers a lot more than some wit­ty para­graphs. Your visu­al con­tent is what will make your cus­tomers decide to read said wit­ty content.
• Shar­ing Your Mes­sage is Easier
You can link sev­er­al social media plat­forms to your Insta­gram account, includ­ing Face­book, Twit­ter, and Tum­blr, to men­tion a few. This makes it easy for your con­tent to go viral, attract­ing more peo­ple to your brand and increas­ing your chances of mak­ing more money.
• It Isn't That Sat­u­rat­ed with Mar­keters Yet
Social media mar­keters don't con­sid­er Insta­gram a heavy­weight in social mar­ket­ing. They would pre­fer to go with Face­book and even Pin­ter­est (which I'm still fig­ur­ing out), than use Insta­gram, which means you have a shot at estab­lish­ing your brand with­out too much competition.
• Its Growth Rate is Spectacular
Now that Tik­Tok is on the scene, this might not be the case, but Insta­gram has expe­ri­enced a lot of growth, and quick­ly when it comes to engage­ment. Insta­gram has more engage­ment than Face­book and Twit­ter, even though the demo­graph­ics of peo­ple to tar­get on the app is lim­it­ed. Nev­er­the­less, the demo­graph­ics rep­re­sent­ed love con­tent, which is why Insta­gram has grown so fast.
• Tar­get the Millennials
This is the demo­graph­ic most rep­re­sent­ed on Insta­gram, and their spend­ing pow­er increas­es every year. Tai­lor­ing your brand mes­sage to tar­get them will give your brand a boost.
• Insta­gram is for Smartphones
Peo­ple spend more time on their mobile devices than on their desk­tops, and Insta­gram is main­ly a mobile device app. Enough said.
• Hash­tags Make Con­nect­ing Easier
Using hash­tags increas­es your vis­i­bil­i­ty. Peo­ple can sim­ply search a hash­tag and find you as long as you are using the hash­tag too, and there are mil­lions of peo­ple per­form­ing search­es on the app every day.
• You Can Tag Your Location
Stud­ies have shown that posts that have a tagged loca­tion get 79% more engage­ment than posts that don't have them. Tag­ging your loca­tion improves your SEO and puts your busi­ness on the map.
• Get Feed­back in Real-Time
You can get com­ments or likes on your post with­in the first few hours of it going live. This lets you know how well a cer­tain ser­vice or prod­uct you are offer­ing will do when you sell it. And, depend­ing on the feed­back, you will know what changes to make and what you should improve on.
Instagram for Business – The Cons
Pho­to by burak kostak from Pexels
• Your Ide­al Audi­ence May Not be on Instagram
Mil­len­ni­als dom­i­nat­ing the plat­form is a good thing and a not-so-good thing. It is not a good thing when your brand caters to an old­er demographic.
• Shop­ping on Insta­gram isn't Much of a Priority
Many peo­ple come to Insta­gram to look at pic­tures and get inspired, moti­vat­ed, enter­tained, and so on. Some­where at the bot­tom of that list is the need to buy some­thing. As such, peo­ple could admire your pic­tures, but may not take the action you want them to: make a purchase.
• Ad Cam­paigns are Expensive
If you are a small busi­ness, paid ads on Insta­gram may be out of your league. Big brands and influ­encers can afford to pay that cost though, but you will need to rely heav­i­ly on organ­ic leads and traf­fic when you start on Instagram.
• You Need to Upload with a Mobile Device
Insta­gram is ful­ly sup­port­ed on mobile devices, and this makes it dif­fi­cult to upload images using a desk­top, for instance. You can share from Insta­gram to oth­er social media plat­forms eas­i­ly, but that first-time upload has to be from a mobile device.
• Con­tent Limitations
Your bio has only 150 char­ac­ters, so you will need to be cre­ative about writ­ing 'About You' in that sec­tion. Insta­gram is for videos and pho­tos, so if you need to write any­thing to explain it in the cap­tions, the image needs to be cap­ti­vat­ing and inter­est­ing enough to make peo­ple want to read a lengthy caption.
• No Click­able Links
You can only place click­able links in your bio. Not in your cap­tions, not embed­ded in your pho­tos. If you type it in your, your fol­low­ers will have to copy it and paste it into their browsers, and how many peo­ple these want to do that?
• You Can Get Car­ried Away Easily
Stay­ing true to your brand mes­sage can be dif­fi­cult because Insta­gram encour­ages cre­ativ­i­ty and try­ing out new things. Make sure that your brand and what you stand for is behind every piece of con­tent you send out on Insta­gram, and you'll be fine.
• How About Your Audi­ence that Isn't on Instagram?
Not every­one owns a smart­phone. It could be a choice, it could be a neces­si­ty, but lim­it­ing your social mar­ket­ing strat­e­gy to Insta­gram could mean lim­it­ing the num­ber of sales you can make.
It seems the pros out­weigh the cons here, but that doesn't mean you should rest on that and start sell­ing. Try out oth­er social media. Cre­ate a mail­ing list. Set up a web­site. Try to have some­thing for every­one that is in your tar­get audi­ence, and make sure you mea­sure your suc­cess­es and improve on what works.
Pho­to by Luke Chess­er on Unsplash
Insta­gram for Busi­ness is a tool worth using for your brand. It is fun to use, easy to under­stand, and you will learn a lot if you are open to it. Get per­son­al with your audi­ence. Show beau­ty and cre­ativ­i­ty in your posts. Have a CTA in every post, and use hash­tags wise­ly. All of this, and the will­ing­ness to keep learn­ing, will make you a suc­cess on Instagram.
Do you already use Insta­gram for your busi­ness? Leave us you account in the com­ments below and let's connect!
---
Are you still look­ing for awe­some equip­ment to suc­cess­fu­ly start you Insta­gram Account? Check out this amaz­ing Guide: