This arti­cle may con­tain affil­i­ate / com­pen­sat­ed links. For full infor­ma­tion, please see our dis­claimer here
The Camera Buying Guide
You have no idea which camera to buy? Then I can help you with this buying guide!
Since the choice depends very much on your per­son­al pref­er­ences, you can now decide what exact­ly is impor­tant to you. Click on one of the but­tons below to find the cam­era that suits you best.
I'm look­ing for…
Small and light for travelling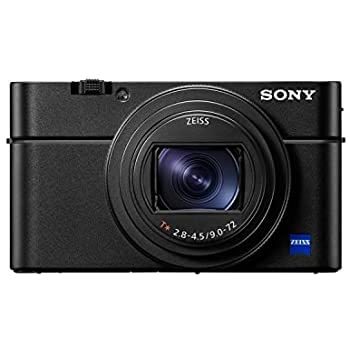 Are you look­ing for an excit­ing and unfor­get­table jour­ney? Sure­ly you want to cap­ture this expe­ri­ence in pic­tures, but with­out car­ry­ing too much extra weight. But you also want more image qual­i­ty than your mobile phone cam­era can pro­vide. Then a very good com­pact cam­era is the right choice for you.
Here I rec­om­mend the Sony RX100 VI, which gives you a pic­ture qual­i­ty that is very good for the size of the cam­era. The cam­era works won­der­ful­ly in auto­mat­ic mode. How­ev­er, if you want to choose set­tings such as aper­ture and expo­sure time by your­self, the RX100 VI also gives you the option. With its 20 megapix­els and good lens, you can print your pic­tures a lit­tle larg­er after the trip with­out them becom­ing blurred.
Camera with decent image quality, but no lens change
You want to have a bet­ter image qual­i­ty than that of a com­pact cam­era? Size and weight are some­thing you take on your­self for pho­tog­ra­phy? But you do not want to have to change lens­es? Then a bridge cam­era is a good choice for you.
Here I rec­om­mend the Sony RX10 IV, which has an extreme­ly wide zoom range and still deliv­ers decent image qual­i­ty. There­fore, it is also a good option for ani­mal pho­tog­ra­phy. It has a fast aut­o­fo­cus, is easy to use and can shoot up to 24 frames per second.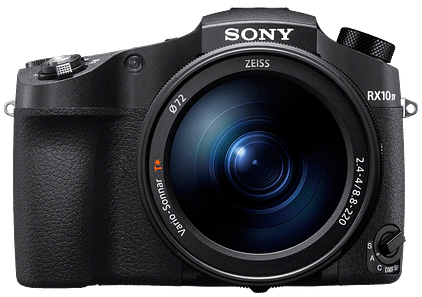 Very good image quality and interchangeable lenses
You want to occu­py your­self more with pho­tog­ra­phy and are look­ing for a suit­able cam­era? A good image qual­i­ty is impor­tant to you and you would like to be able to use oth­er lens­es? Then a sys­tem cam­era or a reflex cam­era is a good choice for you.
With such one you can eas­i­ly start into the hob­by of pho­tog­ra­phy or even video. No mat­ter if you want to do por­trait, sports, land­scape, ani­mal pho­tog­ra­phy or video shoot­ings, here you have all pos­si­bil­i­ties in the long run.
As a reflex cam­era I can rec­om­mend the Canon EOS 800D. It has 24 megapix­els, a fast and accu­rate aut­o­fo­cus and brings a good image quality.
I have been using cam­eras of this class for years and am still very sat­is­fied with them. Here you get a clas­sic, dig­i­tal SLR cam­era. Because these cam­eras have been around for so long, they are high­ly devel­oped. A big advan­tage here is the wide range of lens­es and accessories.
A good alter­na­tive to the SLR cam­era is the sys­tem cam­era. Sys­tem cam­eras do not have an opti­cal but an elec­tron­ic viewfind­er. This means that when you look through the viewfind­er, you are look­ing at a screen inside the cam­era. The aut­o­fo­cus is slight­ly worse, but for 95% of all pho­tog­ra­phers it is total­ly suf­fi­cient. The same applies to the choice of lens­es and acces­sories. Sys­tem cam­eras are cur­rent­ly replac­ing SLR cam­eras because they are small­er and lighter for the same image quality.
A good option among the sys­tem cam­eras is the Sony Alpha 6000, which offers good val­ue for mon­ey. It has 24 megapix­els and you can use dif­fer­ent lens­es on it. This gives you the oppor­tu­ni­ty to immerse your­self in cer­tain pho­to­graph­ic directions.
The best image quality
You want the absolute best pic­ture qual­i­ty? Size, weight and bud­get are sec­ondary? Then a high-end sys­tem and SLR cam­era is the best choice for you.
A Sony A7R III sys­tem cam­era deliv­ers fan­tas­tic image qual­i­ty. It is espe­cial­ly used by land­scape and archi­tec­tur­al pho­tog­ra­phers who want to make large prints of their images. 42 megapix­els pro­vide a suit­able resolution.
If you want to have a SLR cam­era, I can rec­om­mend the Nikon D850. 45 megapix­els pro­vide enough reserves for large prints and even sec­tions of your pictures.
With both cam­eras you should be aware that you need good lens­es to get the full res­o­lu­tion out of them.
For me, these two cam­eras are cur­rent­ly the best choice for max­i­mum image qual­i­ty. Nev­er­the­less, I would like to make a third recommendation.
The Sony A7 III can do almost as much as its big broth­er, the A7R III, which has a slight­ly worse viewfind­er and 24 instead of 42 megapix­els. Nev­er­the­less I find the Sony A7 III suf­fi­cient for 98% of pho­tog­ra­phers. An inter­nal image sta­bi­liz­er and a high dynam­ic range are only two of the high­lights. As a com­plete pack­age, this cam­era has an extreme­ly good price-per­for­mance ratio.
I hope the cam­era buy­ing guide was help­ful for you. If you have any ques­tions or are not sure which cam­era to choose, just write me in the comments.
---
Do you need more awesome Hackers Equipment? Check out these Guides