Five great publishing platforms that will successfully catapult your self-publishing business
Self-pub­lish­ing through pub­lish­ing plat­forms: There has nev­er been a time for self-pub­lished writ­ers like this one. It is also one that pos­es its chal­lenges. As I am writ­ing this arti­cle, the whole world is in the throes of Coro­n­avirus pan­dem­ic that orig­i­nat­ed from Chi­na leav­ing dev­as­ta­tion in its wake. A lot of peo­ple are work­ing from home, and many will go online to seek enter­tain­ment. We are in a time when authors can write and pub­lish as many books as pos­si­ble and on dif­fer­ent plat­forms. These sites promise good qual­i­ty out­put that will increase your sale and put your work fur­ther out into the world.
1. Publish Drive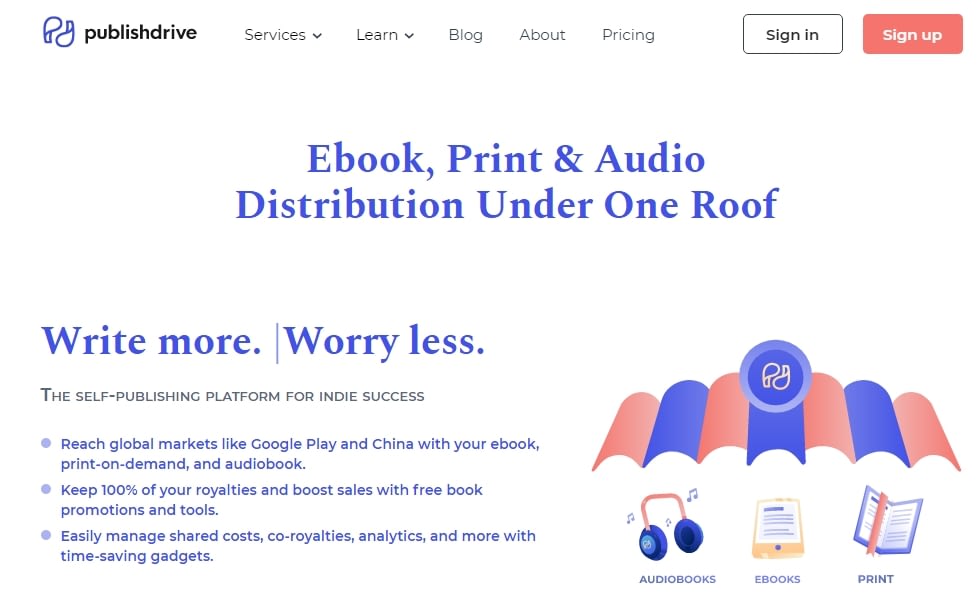 Pub­lish Dri­ve pro­vide a plat­form for self-pub­lished authors and inde­pen­dent pub­lish­ers. They promise qual­i­ty space to pub­lish your e‑book, print on demand and audio­books in one place. They have world­wide dis­tri­b­u­tion includ­ing Ama­zon, Kobo, Apple books etc. Pub­lish­Drive have an excel­lent rep­u­ta­tion in the indie world but if you want to do well be ready to spend some mon­ey with them. You can start with a free e‑book dis­tri­b­u­tion for new authors on the plat­form before they start charg­ing. Their web­site is straight­for­ward to nav­i­gate with instruc­tions, blog and YouTube videos to guide writ­ers new to the plat­form. Among the pub­lishe­ing plat­forms this one is an easy begin­ner plat­form to start with.
2. Draft2Digital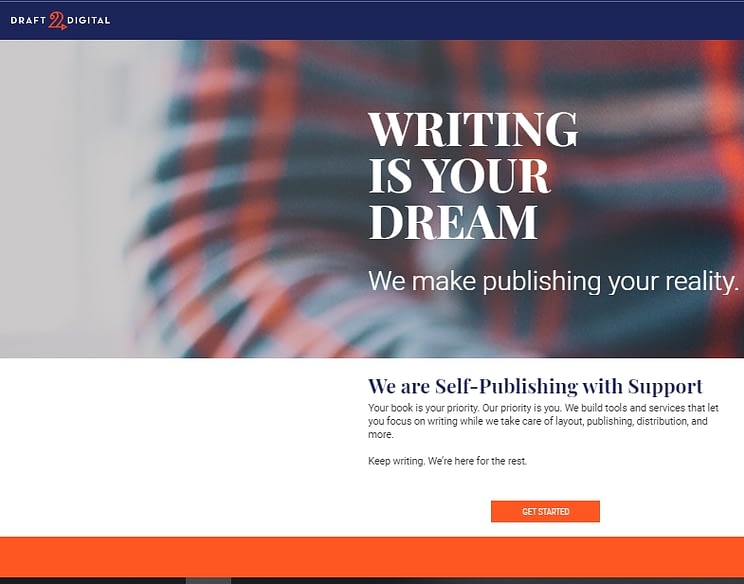 They are a con­ver­sion and dis­tri­b­u­tion chan­nel. Draft2Digital promise to make life easy for an author by pro­vid­ing a plat­form that will enable you to con­vert your work into an e‑book and then dis­trib­ute it on their dig­i­tal store­front like Ama­zon, Kobo, Barnes & Noble, Apple Books, Bak­er & Tay­lor and on Libraries. They also pro­vide you with a lot of help and resources that will make the jour­ney smooth. I like this plat­form. Draft2Digital will not charge you for using their plat­form to con­vert your book but will charge you 10% of each of your sale. Among the pub­lish­ing plat­forms this one is easy to use.
3. Findaway Voices
Find­away Voic­es is an audio­book pro­duc­tion and sale plat­form you can use as a pub­lish­er plat­form for audio­books. As we know, audio has become king and is rapid­ly tak­ing over from a shrink­ing e‑books mar­ket. Find­away Voic­es will match authors with nar­ra­tors, pro­duce your work and then mar­ket it to their 40+ audio retail­ers and library plat­forms. They charge a hefty fee of $1,000- 2,000 dol­lars for a 50,000-word manuscript.
4. Smashwords
Smash­words will dis­play your books direct­ly to read­ers. I love the col­or­ful lay­out of e‑books on the plat­form and was imme­di­ate­ly attract­ed to these. A lot of authors use Smash­words, and at least it is anoth­er one that can dis­trib­ute your books to major retail­ers. They have over 135k authors, inde­pen­dent pub­lish­er, lit­er­ary agents who pub­lish on their plat­form. They give away a sam­ple of the author's writ­ing to attract read­ers and do a lot of sales pro­mo­tion. I look for­ward to explor­ing this some more.
5. Publisher Rocket
My last rec­om­men­da­tion is a tool called Pub­lish­er Rock­et. They promise to help you find more key­words that read­ers use on Ama­zon. What they pro­vide is cru­cial because it means con­ver­sion for an author if a read­er finds and likes your book. The soft­ware costs $116, includ­ing VAT. I would say Pub­lish Rock­et will be more suit­ed for an indie author with a respectable body of work as it means that read­ers can go deep and you will be able to recoup your invest­ment quickly.
There are many more tools and plat­forms (for exam­ple IngramSpark), and I hope to delve more into them in future arti­cles. Do your research care­ful­ly and choose your plat­form wise­ly. In the mean­time, keep safe and write more. The more books you have under your belt, the more mon­ey you will start to make.
---
Do you want to learn how to hack any Plat­form? Make sure to check out the Ulti­mate Hack­ers Roadmap:
Show Ulti­mate Hack­ers Roadmap